About us
                     (

Dr. Ashvini Kumar Dwivedi  Biodata  Follow us)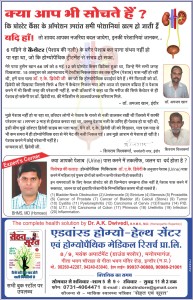 Dr Ashvini Kumar Dwivedi, the brightest star on the Homoeopathic horizon of Madhya Pradesh, needs no formal introduction.
Born in a modest Brahmin family of Mirzapur UP on December 16, 1974, the little Ashvini took his schooling from Mirzapur (UP) & Nagpur (MS) itself and remained always in the forefront be it the education or extracurricular activities. Industrious progeny of Indore and true to its culture, lad Ashvini definitely developed a liking for lending a helping hand to the needy and the helpless out of family tradition as well as the lessons inculcated by his noble hearted father Pandit Ramashankar Dwivedi, a well known figure in the social arena of Mirzapur of the yesteryears.
But it was the undiminishing urge of young Ashvini to ameliorate the sufferings of the masses, who could hardly afford costly treatment and traveling to bigger cities which influenced him to take to the study of Homoeopathy, definitely a system of human's treatment not less trustworthy than Allopathy. Dr Ashvini pursued Bachelor's Degree in Homoeopathy (BHMS) from Nagpur University with flying colors. He then went to Dr. Babasaheb Ambedkar University, Aurangabad to complete Master's degree, Post graduation MD in Homoeopathic Repertory. A certificate in Yoga from Devi Ahilya University, Indore is also to his credit. He had completed hi MBA (HR) from Davi Ahilya University Indore in 2010 and Pursuing Ph.D in Management on topic of Factors Affecting Quality of Management Education in Madhya Pradesh.
Zeal for helping the masses and the quest to acquire a deeper knowledge of this unique system of medicine (the brainchild of the great Dr Hahnemann), Dr Ashvini devoted himself completely to the cause of Homoeopathy. During one-year rotatory compulsory internship and the general internship , Dr Ashvini not only tackled Homoeopathic OPD but also worked and observed keenly the working of ICU, NICU, PICU, and SICU to acquire the invaluable knowledge, experiences and ideas about the different facets of Medical Science, Homoeopathy and working of hospitals providing general and specialized Medicare in the City. Not only dealing with critical cases but also he has acquired expertise in providing emergency services to the people who find way nowhere else'.
After descending back into Indore, The young but missionary Dr Ashvini Kumar opened his own dream center – Advanced Homoeo Health Centre and Homeopathic Medical research Pvt Ltd , introduced the first ever concept of Insurance Scheme for homoepathic treatment in the country earning applauds nationwide. Dr Dwivedi's zeal did not end here. His contributions towards homoeopathy education, clinical management, academic guidance and social work as well as other extracurricular activities are going on side by side and that too unrelenting.
He has worked as a junior lecturer and medical officer at C.D Pacchigar Homoeopathic Medical College Surat, Junior Lecturer and Vice principal in Rajiv Gandhi Homoeopathic medical college, Indore and as a lecturer in Pandit Ravishankar Homoeopathic medical College, Indore.
Previously Dr Dwivedi was Chairman member on the Board of Studies of Homoeopathy, Devi Ahilya Vishwa Vidyalaya, Indore and also in the Panel of medical Inspectors/ Visitors of Central Council of Homoeopathy & Rani Durgavati University, Jabalpur.
Apart from his enumerable contribution towards humanity to help it recover from the sufferings of various chronic ailments through the expanded and vast repertoire of Homoeopathy at Advanced Homoeo Health Centre and Homeopathic Medical research Pvt Ltd ,, 8/9 Mayank Apartment, Geeta Bhawan, Main Road Indore, MP, Dr. Dwivedi is Professor and Head.
Department of Physiology Biochemistry, SRKP Gujarati Homoeopathic Medical College, Hospital and Research Centre, Indore from December 5, 2001 til continuing and visiting Professor to the Institute of Management Studies, Indore (under Devi Ahilya university).
As far as administrative and leadership aspect of his career is concerned, Dr Dwivedi's participatory contribution is praiseworthy. He has managed from first to fourth Prof. of BHMS exams conducted by Devi Ahilya University Indore in the capacity of Superintendent and was appointed as paper setter as well as examiner by all the universities of Madhya Pradesh as well as some from out side for BHMS examinations
He has also been a coordinator in National Homoeopathic Conference organized by SRKP Gujarati Homoeopathic Medical College Indore. & organizing secretary in the state level Homoeopathic Conference organized by the Homoeopathic medical association Indore. Dr Dwivedi's innovative instinct clearly reflected in his research paper on Rheumatism, the most painful ailment faced by the humankind even in this era of modern healthcare and also in the lecture delivered on the continuous Medical education program conducted by government Homoeopathic Medical college Bhopal. As far as his leadership quality is concerned Dr Dwivedi has been on the forefront in the selection as well as guidance to his students and even represented SRKP Gujarati Homoeopathic Medical College, Indore in counseling at Bhopal for admission in First BHMS exams organized by Vyapam, Bhopal several times.
Previously Dr Dwivedi's managerial acumen was reflected in his skilful handling of the hospital run by SRKP Gujarati Homoeopathic medical College, Indore in the capacity of Officiating In charge. He was also represented teachers of the SRKP Gujarati Homoeopathic medical college as their representative at various forays not only at state level but also at national and international levels.
Dr Dwivedi's devotion toward discipline and inclination towards punctuality and decency can well be gauged from the fact that he has been made in charge of Anti Ragging cell of SRKP Gujarati Homoeopathy Medical College. Dr Dwivedi's quest to develop the Homoeopathic system of treatment made him to even travel up to Singapore, Malaysia and Bankong for the betterment of homoeopathic medicine.
Dr Dwivedi, on the one hand is the editor of Sehat Evam Surat Hindi Monthly Medical magazine a well-read monthly medical magazine based on treatment, causes, preventive measures on various diseases and lifestyle. Besides, two books which are under construction, also go to the credit of Dr Dwivedi Viz Physiological Materia Medica and Prevention of Different Mode of Treatment for various diseases, especially the latter one clearly exhibits his deep knowledge and command over usage of homoeopathic medicines.
It is rightly said that excellence in a leader is not exhibited by his words but by his deeds and achievements, so is with Dr Dwivedi.
The long list of prestigious awards and acclaims speak volumes of excellence in him. These are his deeds that brought so many laurels to Dr Dwivedi even in such a young age he has been conferred with the state's most prestigious award in the field of medicine- Dhanvantari Award on March 20, 2005 by none other than Hon'ble Raghavji, Finance Minister of Madhya Pradesh.
He has also been conferred with Best Writers award of Arpan Samarpan magazine and was presented by Congress party spokesman and Chief of congress women cell Dr Girija Vyas and hon'ble Shri CS Chaddha, the then Vice Chancellor of Devi Ahilya Vishwa Vidyalaya.
He was also crowned as expert speaker by the Government homoeopathic Medical College, Bhopal through the principal of his college Dr S.K. Mishra.
Dr Dwivedi is also bestowed with Chikitsa Seva Award by the then Hon'ble chief Minister of State Babulal Gaur on September 6, 2005 in MGM medical college Indore.
Besides Dr Dwivedi's illustrious academic records earned him the much acclaimed gold medal of his University at the hands of Shri MS Shivankar, Minister of Finance, Government of Maharashtra. and also Chikitsa Ratna Award by Dr JVG Krishnamurty, ex chief election commissioner of India, on October 6, 2004 in New Delhi.
But the greatest quality and supreme reward given to him none other than the Almighty Himself is a soft heart and a gentle touch with which Dr Dwivedi pleasantly ameliorates sufferings of the patients and give smiles to the lips of scores who have virtually given up the hope to recover from incurable diseases.